These days, most people use some kind of music streaming service, but which one is the best? In this article, we want to review YouTube Music and compare it to Spotify. Each of these two has its advantages and disadvantages. Youtube Music vs Spotify: which should you choose? Read further to find out!
Spotify: A Genuine Leader
Spotify is one of the pioneers of the business. The company was created by the Swedes Daniel Ek and Martin Lorentzon to fight piracy. The solution was to offer a free streaming service in exchange for listening to and watching ads and skipping a limited number of songs.
Spotify took the opportunity to forge a solid reputation and, above all, to become the most popular streaming music service. The platform works on most systems (iOS, Android, web player, Windows, macOS, Linux, game consoles) and can be used with Bluetooth speakers. These functions allow you to efficiently juggle from one application to another while enjoying your favourite songs, playlists, and suggestions.
Spotify has a significant advantage over many other music streaming services of having a free offer that provides access to 15 personalized playlists (approximately 750 songs) updated daily. The selection is made according to your preferences. It's possible to listen to any song in any order, as many times as you want, on one of the playlists. With this model, the Swedish giant intends to stand out from the competition and push users to switch to its Premium offer.
YouTube Music: Google's new hope
Unlike its rival Apple, Google is still developing in the field of music streaming. After Google Play Music launched in 2011, which has never really convinced users (the American giant has never communicated its number of subscribers) - Google is trying its luck again with YouTube Music. While the two offers have existed simultaneously for a long time, the new formula has replaced Google Play Music at the end of 2020. This change allows Google to offer a more straightforward strategy with a single music streaming platform. But is YouTube Music worth subscribing to?
With the YouTube brand, Google can finally reach new heights when it comes to music distribution. YouTube Music has a great choice of music, and the platform indicates that it has "thousands of playlists, millions of official titles, albums, radios" as well as music videos. Also, YouTube Music is filled with covers, remixes, live performances, and alternative versions of songs "that you won't find anywhere else."
This young and ambitious service wants to blend audio and video in its offer. It's also available on Android and iOS. However, there isn't an (official) application for Windows or macOS: you will have to be satisfied with the web version.
YouTube Music vs Spotify - Sound Quality
Spotify uses the free Ogg Vorbis format with a speed that will vary depending on your offer and chosen options. Spotify explains that the standard quality of the desktop app is the Ogg Vorbis format, 160 kbit / s. Premium subscribers can enjoy high encoding at 320 kbit / s. On iOS or Android, smartphones, and tablets, Spotify offers differs when it comes to audio quality:
Low: a bit rate of approximately 24 kbit / s (HE-AACv2 format).

Normal: a bit of around 96 kbit / s (Ogg Vorbis format).

High: a bit rate of 160 kbit / s (Ogg Vorbis format).

Very high: a bit rate of 320 kbit / s (Ogg Vorbis format).

Automatic: varies depending on your network connection
Spotify offers AAC format up to 256 kbit / s (128 Kbits / s for Spotify Free) if you use the web player. Note that the higher the quality of the streaming, the more data consumption is needed. Therefore, whenever possible and depending on your plan, it's best to opt for the highest configuration to enjoy the best quality.
In 2021 Spotify is finally lining up with the competition when it comes to HiFi audio. During the Stream On event, the music streaming leader announced the arrival of Spotify HiFi, a subscription plan allowing users to listen to music in CD quality. We don't know its price yet or the countries that will use it, but the price should be close to the competition (around $15). Spotify also announced its expansion into 80 new markets and the arrival of podcasts with prestigious partners such as former United States President Barack Obama, Bruce Springsteen, or the Russo Brothers (Avengers: Infinity War and Avengers: End Game) to distribute podcasts.
When it comes to YouTube Music sound quality, the music service offers three audio quality options:
Low: bit rate up to 48 kbit / s for AAC files (takes up less space / uses less data)

Normal: (default setting): up to 128 kbit / s for AAC files

High: up to 256 kbit / s bit rate for AAC files (better audio quality for YouTube Music, takes up more space / uses more data)

Always high: (via Wi-Fi) which keeps high quality even if the connection is poor ( 256 kbit / s bit rate for AAC files)
To sum up: Spotify offers a better sound quality in the paid plan. Unless you're an audiophile, it should be enough. Even though Spotify promises to deliver Spotify HiFi with lossless, CD-quality audio, we might wait a while for it to come to fruition.
YouTube Music vs Spotify – Pricing
Comparing to YouTube Music, Spotify has much more ads and commercial breaks in the free version. There is also a limited number of times that you can skip tracks, and you can only listen to tracks selected from the Spotify playlist. However, contrary to YouTube Music, you can use the app in the background.
To take advantage of all the functionalities of Spotify, you must pay $9.99.
It allows you to listen to the titles of your choice without advertisements and as many times as you want. Spotify Premium also gives access to offline mode (download songs) and the highest sound quality.
Recently, the Swedish company created a Duo Premium formula at $12.99 per month. This subscription, specially designed for couples, allows you to have two Premium accounts if you live in the same house. Moreover, Duo Premium users can find the same advantages (music without ads, offline mode, etc.) with the addition of a Mix Duo playlist that brings together songs from the musical tastes of both users.
Spotify also has a Family offer which costs $14.99 per month, and six people can use it. In this case, each user will have his account. However, like in the Duo Premium, the offer is reserved for people living in the same house.
Finally, it's worth mentioning that Spotify also has a Student's offer for $4.99 per month.
YouTube music is a subscription-based app. The free version of YouTube Music is available but only as a one-month trial. To download videos online, listen to music without ads, download videos to play them offline, and play songs in the background, you must buy a Premium version of YouTube Music, which costs $9.99 per month. With this package, you can also choose between listening to music only or displaying the clip of the song (if available).
YT Music, just like Spotify, offers a family subscription for $14.99 per month, and the plan can be used by up to six users. There is also a student's Premium, which costs $4.99. What's really interesting is the plan providing access both to YouTube Music and YouTube Premium. Paying just $2 per month more, users can access all of YouTube Music Premium features and play YouTube videos without ads. This subscription costs $11.99 per month ($17.99 per month for families and $6.99 per month for students).
To sum up: Spotify and YouTube Music have the same pricing for the individual plan ($9.99), Family ($14.99) and Student ($4.99). For $2 extra, you can get access to both YouTube Music and YouTube Premium. This is a no-brainer for anyone considering paying for a YouTube subscription (which comes with no ads, background listening, music & video download).
Spotify vs YouTube Music - Library and Exclusives
The basis of any music streaming service is…. the music, of course!
Even if it has a unique, feature-packed, and well-designed app, when it can't meet users' music needs, no one will use it.
When it comes to music catalogs, both Spotify and YouTube Music have a large selection to choose from, and it's not hard to find something cool to listen to on either of the two platforms. But where YouTube Music marks a point, at least in this area, is thanks to exclusive content such as concerts, live performances, instrumentals, unreleased tracks and remixes not found on other platforms in the world. Granted, Spotify hosts concerts and live events that are then available on-demand, but that's nothing compared to the user-generated content on YouTube. This is why when you transfer playlists from YouTube Music to Spotify, a lot of songs might be missing, because Spotify simply lacks a lot of music content. Even though Spotify has a huge catalog of more than 70 million tracks, you will be surprised to discover that not everything can be found there. For example, many users moved from Spotify to YouTube Music when k-pop songs disappeared due to Spotify vs. KakaoM conflict.
What's more, with YouTube Music, you can discover many underground and non-mainstream artists that are not on Spotify (you need a distributor to get your music on Spotify, while you can simply upload your music on YouTube). So if you care about variety, YouTube Music is your choice.
💡 Spotify's library contains every song you've saved—the songs you've downloaded, playlists, followed radio stations and artists, and albums that you've liked. However, having a song in your library doesn't mean that you can play it offline. You should download it to your device.
💡 The YouTube Music library contains 60 million songs where users can find their playlists, albums, and songs. If you have a Premium subscription, you can also scan recent playlists and songs and see any music you've downloaded.
To sum up: Spotify is rich in podcasts, but you will find more music content on YouTube Music (music videos, fan covers, remixes, mash-ups).
YouTube uses its video clips to stand out from the crowd
YouTube Music is launching a feature that will likely never be available on other music streaming apps: the ability to instantly switch between the audio version and the video clip of a song. This feature is available for YouTube Premium and YouTube Music Premium subscribers and can come in handy in some situations. Currently, Google has been able to link the audio and video versions of 5 million songs, which is already a lot. And that should cover all of the popular songs on the service.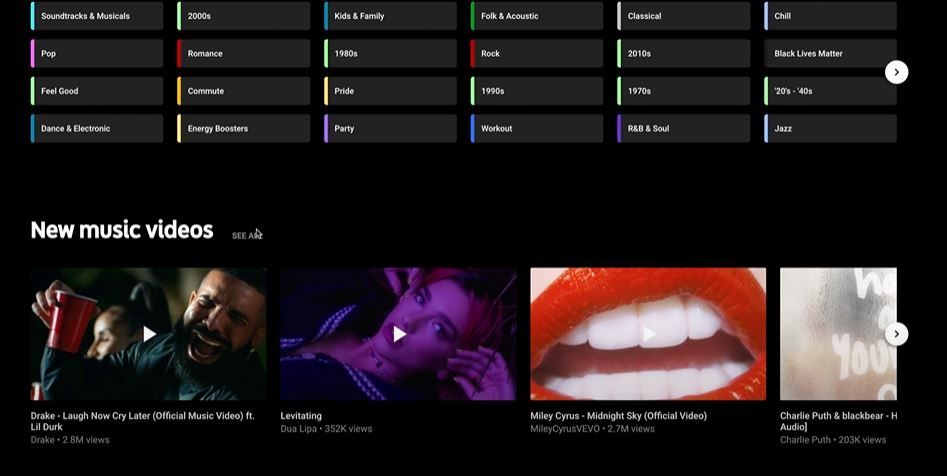 YouTube Music vs. Spotify - More Differences
One of the best Spotify features are auto-generated playlists based on your listening habits. Spotify is well-known for its algorithms and there is no other service than can beat them. When it comes to the music discovery, Spotify wins with YouTube Music. You can listen to automatic playlists created by YouTube Music, but they can't compete with Spotify's Discover Weekly.
As Google is the best search engine in the world, Spotify remains behind YouTube Music when it comes to searching and sorting possibilities. Why? With YouTube Music, users can filter their search results, which can be sorted by artist, album, songs, or playlists. Spotify does have a similar option for whole categories, but you can't filter them; you have to scroll down to see the results for each group. YouTube Music search algorithm is really great. It's no surprise that YT Music was first to introduce the option to search a song by its lyrics (Spotify followed and rolled out this feature in late 2020).
Advantages of YouTube Music
Is YouTube Music good? Check its advantages presented below!
Rich in content: YouTube Music not only gives you the possibility to listen to official music, but also remixes, remakes, video clips, covers, live gigs, or concerts.
Bundled with YouTube Premium: You get access to YouTube Premium for only $2
An advanced search engine: Being a Google application, YouTube Music has the advantage of having an intelligent search engine whose opportunities are expanding every time. In this case, Google is implementing the option to make YouTube Music searches more precise. That is, if you don't remember the title or the artist, you can search by the lyrics or simply "that rock song that talks about love."
Advantages of Spotify
Simple interface: If Spotify has always stood out for something, it's because of the simplicity of its interface and how easy it's to navigate. Many users like it because it's a comfortable and simple application.
The weekly Discovery list uses a great algorithm: every Monday, Spotify launches a list with random music from Weekly Discovery that, based on the listening habits of each user, plays similar songs. The algorithm used for this playback is excellent and makes Spotify stand out from competitors.
Robust podcast selection: Podcasts are getting increasingly popular and Spotify carries almost 3 million of them (and growing!)
Transfer Your Playlists
With the FreeYourMusic app, you can quickly and easily transfer playlists from Spotify to YouTube Music or from YouTube Music to Spotify. Don't limit yourself to just one music streaming service. FreeYourMusic can also generate music video playlists, which can be very handy if you're a YouTube Music subscriber.
YouTube Music vs Spotify – Final Words
Both Spotify and YouTube Music continue to grow day by day and have more and more active users. These are ones of the best music streaming platforms but which service should you choose?
If you want to use a free service and don't mind ads, Spotify's offer is the most attractive. It prevails as one of the best and polished platforms of all time. The organization and recommendation of playlists is better on Spotify than YT. For true music lovers, Spotify Premium would be the most convenient choice.
However, regarding Premium service, YouTube stands out because of the mixed option of having access to music and video streaming for a similar price. The comfort of not having to view ads using classic YouTube for just 2 dollars more is a notable bonus. Since YouTube Music is bundled with YouTube Premium, this might be a very attractive option for YouTube subscribers.
So, to sum up: Spotify is a great solution for most people, but if you want to enjoy both songs and videos, YouTube Music will be more suitable.